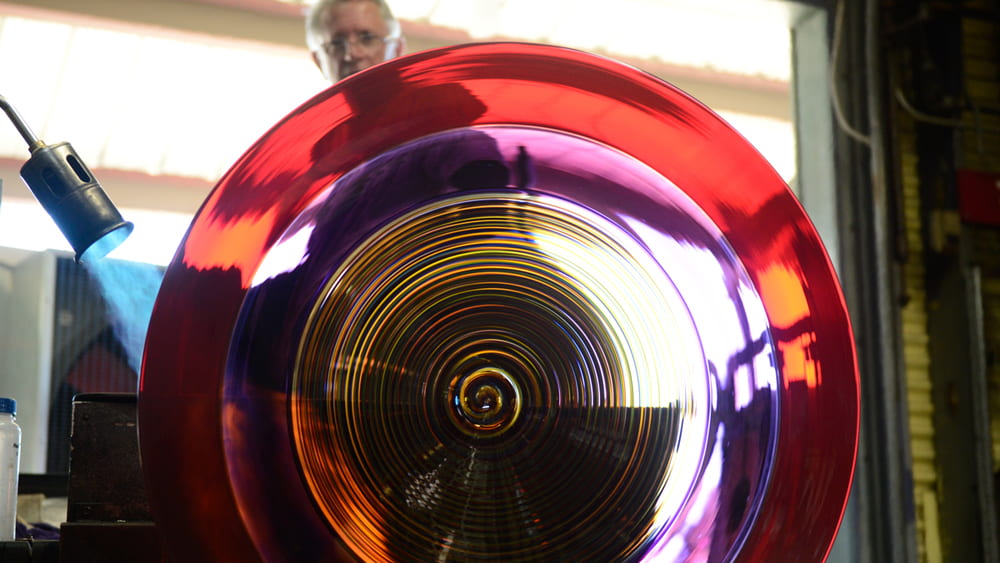 ---
BY BECKY FULTON – STAFF WRITER
Centre is known for its study abroad programs, but its glass blowing program is prominent as well. After just over 30 years, there remains one constant figure behind Centre's glass art, H.W. Stodghill, Jr. and Adele H. Stodghill Professor of Art Stephen Powell. Powell began the program in 1985 after starting at Centre in 1983.
"I was only supposed to be here one year," Powell said. "Now I'm still here."
Current first year student Emma Huckestein is one of the many students Powell has taught yet, Huckestein started her Centre career with multiple years of glass blowing already under her belt.
"I came to Centre because of the glass," Huckestein said.
Huckestein's experience with glass started very early in her life at the Pittsburgh Glass Center in Pennsylvania.
"My mom would take me there when I was five years old," Huckestein said.
She was too young to take the hot glass classes until she was in high school, but that didn't stop her from going to watch the other artists work, or taking other glass classes until then.
Once she started hot glass glasses, it took her a little time to get comfortable with the medium, since the furnaces used to keep the glass molten can be as hot as 2300 degrees Fahrenheit.
"There's probably a two year hump to get over," Huckestein said. "You have to get over using both hands."
After this, it wasn't long before Huckestein was then teaching others how to blow glass.
"I was one of the youngest teachers at the glass center," Huckestein said.
Since Huckestein arrived at Centre with experience, she had an adjustment period before being comfortable working in a new environment.
"It took a little while to integrate," Huckestein said. "Every person teaches glass a different way."
Even though she is only a first year, Huckestein already has a glass project in mind, which involves her working with Associate Professor of Chemistry Jeffrey Fieburg to make her own colors to resemble the ones found in ancient glass. Samples of these colors can be found in the Wunsch Ancient Glass Collection located in the Doherty Library near the Grissom Reading Room.
"It's one of my goals to recreate the ancient colors in my glass," Huckestein said. "My favorite color is blue, so I'm going to try that first."
To make her preferred color, Huckestein will have to combine the elements Copper, Cobalt, and Iron in different combinations and ratios. She has not started creating the colors yet since she spent her first semester doing background research on color, but plans to start in the coming weeks.
Even though Huckestein plans to pursue a degree in studio art, many students in Powell's art classes are not art majors, a part of teaching Powell enjoys.
"They're really good students," Powell said about his hot glass students. "They're hopefully getting an interesting experience."
Powell admitted it is different teaching Huckestein, since she is not a typical student who does not discover glass blowing until their senior year at Centre.
"It's unusual, kind of a challenge," Powell said.
There are other students who do discover glass early in their Centre career, such as Evan Hintz, a senior economics and finance major with a studio art minor. Even though he had taken glass classes while in high school, Hintz began blowing glass in his first year at Centre.
Hintz and Huckestein have also worked as partners in their classes together.
"It's cool to work with her because she's also from Pittsburgh," Hintz said.
Centre students may undertake many projects, but the glass ones fall amongst the most interesting. In the words of glass artist John Kiley to Huckestein, "Eventually you have to figure out what glass means to you," something that will change as these students pass through Powell's classes.
---
---