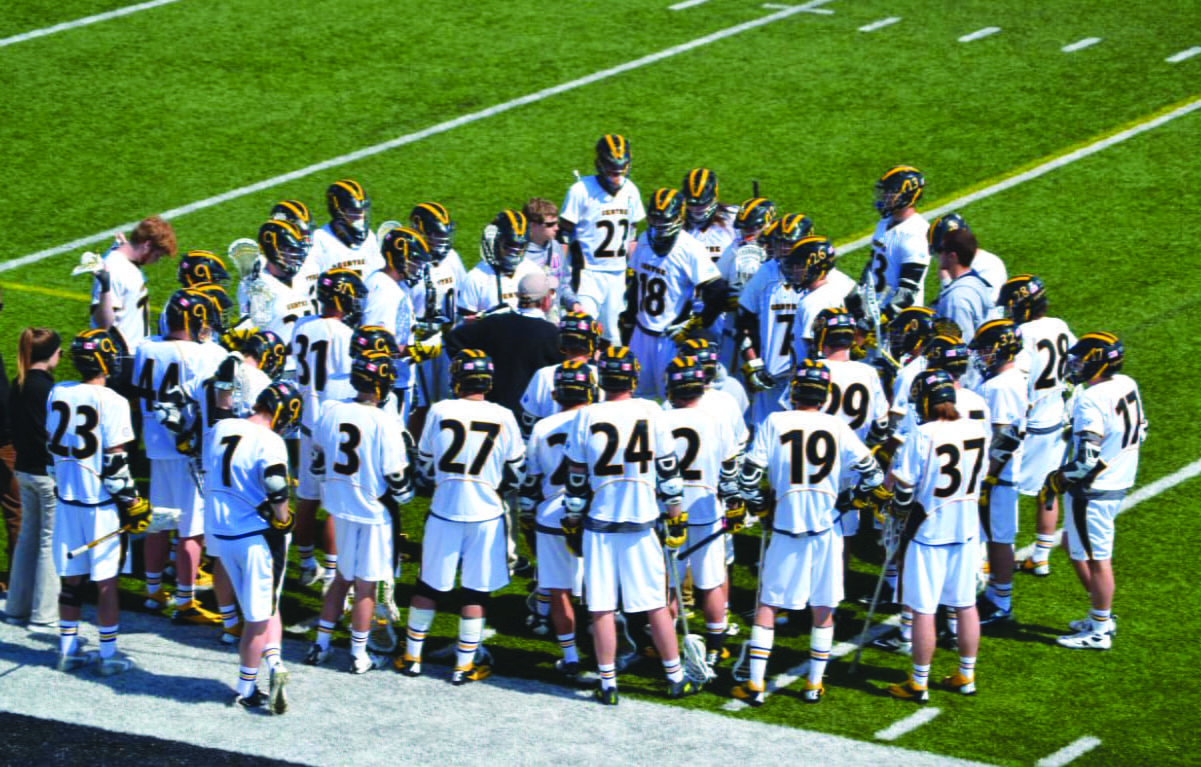 ---
By Charlie Grigsby – Cento Writer
Legacy is often a difficult thing to talk about after three years. It's easy to have a vision or an expectation, but building a reputation takes time. When Centre Men's Lacrosse plays next Sun., Feb. 23 against Carthage, the program will be entering its fourth year since its inaugural season in 2011.
The senior class will take the field as the first group to play on the team all four years. They will be playing for the program they established and, with the juniors, sophomores, and alumni, molded into the NCAA tournament team it is now.
In three short years, the lacrosse team has gone from nonexistent to having eleven players named to all-SAA conference teams in 2013 and from a 3-10 regular season record in 2011 to a 10-2 record in 2013.
Legacy means something that is handed down, and, certainly, Coach Bert Severns has led this group of upperclassmen to create a program worthy of inheritance. Heading into the 2014 season, the legacy has been constructed; the focus now becomes shaping the team's identity one game at a time.
When Coach Severns took over as head coach in 2010, he did so with first-years making up 18 of the 23 players on the roster. The team only won three games that season, which was frustrating for players coming from well-established high school programs around the country.
"I wasn't used to losing," senior midfielder Corey Krill said. "You have to manage your expectations and know what you're capable of, but keep pushing yourself at the same time. The first year is about doing everything you can to get better."
Despite the disappointing first season, talent kept flowing in. The infant program offered ample playing time as well as the freedom to build a team culture from the ground up. Players came for the opportunity to contribute right away, but many will tell you that the biggest draw to Centre is Coach Severns.
"He's like a father figure to a lot of us. He understands how 20-year-olds are, how we are," sophomore long-stick midfielder Phil Havira said.
The talent influx vaulted the Colonels to a 12-4 record in 2012. The atmosphere of the team began to shape around the competitive nature of its players. Practices adopted a heightened intensity, with players fighting each other, oftentimes literally, for starting spots and playing time.
Off the field, everyone's close, but on the field, the tension between position players sometimes boils over.
"I don't think you could print what I could tell you about the locker room," Krill said jokingly. "Everybody loves each other, but we're all so competitive. That's what you want in a locker room. Guys don't need to be complacent and 'buddy-buddy' all the time; you need to be pushing each other."
Last season, 33 players played in at least nine games, meaning 75% of the team participated in over half of the season. Eleven of those players earned spots on all-conference teams, and unlike its SAA opponents, with the exception of Berry, Centre returns every single all-conference player for its upcoming season.
Expectations have been raised every off-season, and this year is no different. After making a surprise run to the NCAA tournament last season, the Colonels will not be satisfied with just tournament participation; this team is talented and deep enough to compete for an outright SAA conference championship. This season could mark a transition from upstart to recognition, which is why Coach Severns' message this year has been "all in."
"I want to win a tournament game. Next year, I want them to make a run to the Sweet 16, the Final Four. I want to be the team that keeps getting better until schools don't want to play us in the tournament," Krill said. "I want people to think of us when they think of DIII lacrosse in the South. We're an upstart team, and honestly, we're getting enough attention. The program is not [a national power yet] but maybe one day…"
Eventually, the Colonels will no longer play with the chip on their shoulder. This season, they'll be playing with a target on their backs, a fact which they are perfectly fine with. Centre is listed as one of the favorites to win the conference, and with continued success on a national scale, they'll have little left to prove in terms of legitimacy. But the upperclassmen still want to finish what they started and, alongside the sophomores and first-years, establish what Centre lacrosse will be known for years after they graduate.
They've already made something out of nothing, so all that's left is sculpting what that something is.
So yes, three years is short time to throw around words like legacy. Then again, three years was enough for Coach Severns and this senior class to build their own culture. Ask the coaches or the players and they'll say the success doesn't come as much of a surprise.
Such a rapid progression seems remarkable to anyone outside the Colonel's locker room, but to the coaches and players, the ascension of the Centre Lacrosse was and is inevitable.
---
---