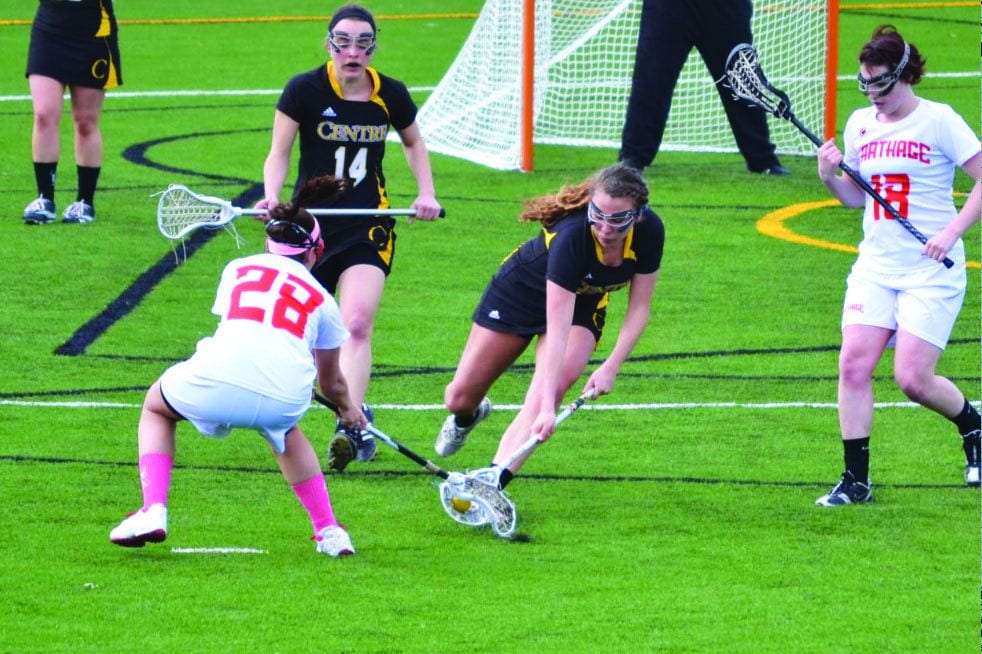 ---
By: Alex Mulhall – CENTO WRITER
The Centre Women's Lacrosse team is geared up and ready to take a big step forward in 2014. The team, which had its first season only three short years ago in 2011, reached the finals of the inaugural Southern Athletic Association (SAA) tournament last year, losing in a heartbreaker to rival Sewanee.
An eleven-win season and a trip to the conference finals is an impressive feat for any team, but these Colonels aren't resting on their laurels. They've spent the entire offseason working hard, and now they're itching to get back out on the field.
The team is eagerly anticipating matchups with several great teams in 2014. Head Coach Julie Beer, who has been leading the team since its inception, spoke of a few key matchups the Colonels will face this year.
"We're playing teams in the more established NCAC [North Coast Atlantic Conference] that we haven't beat this year, and those will be great learning curves. Augustana made it to the Sweet 16 last year, and Lynchburg is a regular NCAA tournament contender," Beer said.
The Colonels fell to Augustana 12-6 on Wed., March 5 in a hard-fought match. They are slated to play Lynchburg on Wed., March 26.
This is also the first year that every school in the SAA will have a women's lacrosse team, which means that the Colonels can also look forward to a more competitive conference schedule.
It's no secret, however, which team the players are preparing for the hardest. "We are especially pumped to play Sewanee this year because of the loss in the championship," junior attacker Audrey Powers said.
"At most of our practices, our coach has put the 19-13 up on the scoreboard (the final score of last year's championship loss) to motivate us to sprint faster and work harder for the ground ball."
Junior defender Anne Carole Preuss echoed that sentiment. "We definitely want to work harder this year so we can beat Sewanee. We're working harder every practice to become more cohesive as a group."
There's an even deeper level of motivation for this year's team that goes well beyond any sort of revenge.
This year's senior class was the first class recruited to the women's lacrosse program at Centre.
Coach Beer attributes much of the team's success to this senior class. "I don't think I could talk about the program without talking about the five seniors who have been here since the beginning. Their intensity, focus, and drive has continually grown with them, and that has propelled this team to three consecutive ten+ win seasons," Beer said.
This fact is not lost on the rest of the team. The Colonels desperately want to send these seniors, or "matriarchs" if you will, out on the right note.
"In a lot of ways, these seniors are the founding class of the program," junior attacker Emily Madden said, who just recently won SAA Offensive Player of the Week for her play against Birmingham Southern.
"The goal of sending our seniors out with a conference championship has added a lot of motivation to our practices."
The program has come a long way since that first year. "There is a complete difference in today's team compared to the 2011 team," senior midfielder Sarah Mastey said. "We aren't teaching girls how to pass and catch anymore. Today, the team is intense and knows how to play hard."
These seniors have never posted a losing conference record nor have they ever posted a losing regular season record.
Unfortunately, their hard work and dedication has yet to produce a conference title, but they are confident that this year will lead them to a title and the promised land of the NCAA tournament.
"Coming together and giving our all as a team will hopefully lead us to a bid," Mastey said. "But an even bigger goal the team has is to look back on this year with no regrets. We want to know that we left everything out on the field and gave our best this season."
Be sure to catch the Colonels in some big upcoming home games this month. From March 7 to March 23, the Colonels will play six straight home games against quality opponents, including the team everyone has been waiting for, Sewanee.
---
---